I've been tossing back and forth between books since finishing Juliet. It was such a good book and I was having trouble deciding what I wanted to read next. There were quite a few books I wanted to read, but my budget wasn't allowing me to go nuts and buy them all right now. And they are on "wait" at the library, so I had to decide to either read a "real" book that I already had on the bookshelf at home, or an existing book already on Beatrice.
I got lucky and Barnes & Noble had a Free Friday book that looked promising. I'm hooked now. Big Girl is reading a library copy of the same book, which is fun because we can talk about the story as we go. 
There are six (or seven?) books in the series, so I am sure B&N will get their tithe at some point, unless we get lucky and find them either at a used bookstore or the library. I may just go ahead and purchase the "real" book so that Big Girl and I can share them more easily. She likes to take her books to school and read them when she has free time and I'm not too keen on letting Beatrice take a trip to school.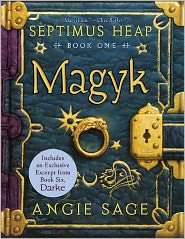 So, now I am reading Septimus Heap, Book One, Magyk which, although, I think, a children's book, is really very entertaining.  It's about a family of wizards who adopt what they think is an abandoned baby girl but who turns out to be a princess who was rescued just as her mother, the queen, was killed.  It's all twists and turns and lots of fantasy and magic, but it's a nice escape from reality right now.  The story is engaging and the characters are interesting, if not too deeply developed (so far).
Big Girl is really enjoying it, which I love, and hates to put it down at night when it is time for lights out. I think it will be fun to read together and have something to share, especially if she makes it past the first book and on into the others in the story.
Who knows, maybe some Harry Potter will be in our future one day?
What are you reading right now?