I've been doing a lot of reading this summer. I made a conscious decision at the beginning of summer that I was going to watch less TV and do more reading. I've got a ton of shows on TiVo and, surprisingly, I don't even care if I don't catch up on them.  BUT, I am really enjoying reading again.  I have been devouring books like they were bon bons and spending lots of time curled up on the sofa with a glass of iced grape kool-aide and my faithful kitty cat, Scooby Doo.  (aka Gabriella Pussycat… the nickname is a story for another day)
My new Nook (named Beatrice Nook by Big Girl) has been a constant companion, too. I have been really enjoying it and the fact that just about ANY book is accessible to me anywhere (even 38,000 feet in the air as I flew to/from San Francisco a few weeks ago).  I have also been enjoying being exposed to new writers (that I probably would never have considered) as I have been taking advantage of the Free Friday eBooks on Barnes & Noble's website. Why not try a book if it's free? Nothing to lose, right?
If you have been considering a Nook (or Kindle) you can read my review of Beatrice here.  She is my new best friend (and Big Girl's, too)
Here are a few of the books I've read in the past few weeks:
Weddings Can Be Murder
Christie Craig
This was a Friday Freebie.  I would've probably not bought it otherwise.  It was light, cotton-candy reading.  Predictable plot, although great escapism.  Not too crazy about the language in the book (lots of F-words) but I just skimmed them and kept reading.
Basic plot is centered around murders of brides-to-be who all share the same wedding planner (who is killed in the first 100 or so pages) and the Cop/PI brothers trying to solve the murders and save the girl.  There's also a sub-plot which was focused on Kate (the bride) and her fiancé and best friend.  Without spoiling the story, that's about all I can tell you.
Would I read it again? Probably not.  But it was good, escapist summer reading – and for free, that's not bad.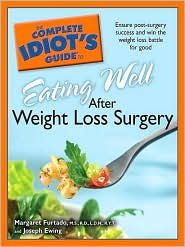 The Complete Idiot's Guide to Eating Well After Weight Loss Surgery
MS, RD, LD Furtado
I picked this up on the airplane heading out to San Francisco. ON THE PLANE. At 38k feet. How cool is that? LOVE it.  Love my Nook.
Anyway. 
Very, very informative book. I thought I had learned pretty much all I needed to know about life after surgery already but was pleasantly surprised to find that this book had tons of good information for me. Particularly about carbohydrate intake, protein needs, etc. 
I'm still reading it – I have to be in the right frame of mind for this type of book – but I am really glad I bought it. If you are a WLS patient, I strongly suggest making the investment.
The Girl with the Dragon Tattoo
Stieg Larsson
Is anyone not reading this book (or one of the books in this series)?
I mean, really, everyone seems to have this book on their to-read list these days.
I have started it. I haven't finished it. I keep getting distracted with other books. The story just hasn't grabbed me yet.
Anyone have any thoughts about it? I'm wondering what all the fuss is about, since I can't seem to get going on the book. Maybe I just need to get over my ADD and focus on reading it for a few days and see if it gets better.
DarkFever
Karen Marie Moning
This was another Friday Freebie (which is probably why I can't seem to finish the Dragon story!)
I was a little skeptical that I'd like it, but once I got into the story (in about three chapters) I was hooked. I read this in about 2 days. 
It's a sci-fi/paranormal story (not a romance at all) and focuses on this stereotypical Southern Blonde whose sister is mysteriously killed while attending an exchange program in Dublin, Ireland. She goes over to pressure the police about finding her sister's killer and finds herself embroiled in the world of the Faery, magic and mystery.
There are five books in the series. I have already downloaded #2 & 3 on my Nook. I can't wait to read them. The stories are engrossing and the dialogue and plot are very well done.  I really had no clue what was going to happen from page to page – which is really important to me.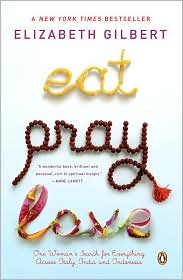 I started this a long time ago. Really, really enjoyed it.
Then I got the Nook and got all sorts of distractions.
I am stuck somewhere in India.  At an ashram. Maybe that is why I haven't finished?
I WANT to finish it. It's a really good story about finding oneself and growing up.
I WILL finish it.
Maybe after the kids are back at school.
And, then, finally, I am reading this -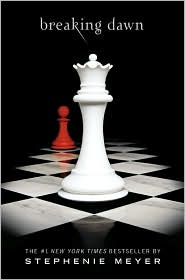 I got re-hooked into the saga after seeing the new Twilight movie last week. I'm already more than halfway through the book (started reading it Saturday night) and I just HAVE to finish it to see where things go.  Didn't think I would get sucked back into the Twilight series again, but here I am, reading like a crazy woman.
Like I said, I've been devouring books lately. 
What are YOU reading?
Anything I should add to my wishlist?